You may have heard about the first Netflix Original series from India, 'Sacred Games'. Released on 6 July 2018, the series is based on a 2006 thriller novel of the same name written by Indian-American author Vikram Chandra. In a short time, it has managed to attract many eyeballs, due to its politically controversial nature, display of violence, nudity, and use of profanity. Nevertheless, 'Sacred Games' has been widely acclaimed for its genuine portrayal of the city of Mumbai, the Mumbai underworld, and the brilliant acting of some of Bollywood's talented gems.

Dhwani Goel, Contributor, The Netherlands

WARNING: SPOILERS AHEAD!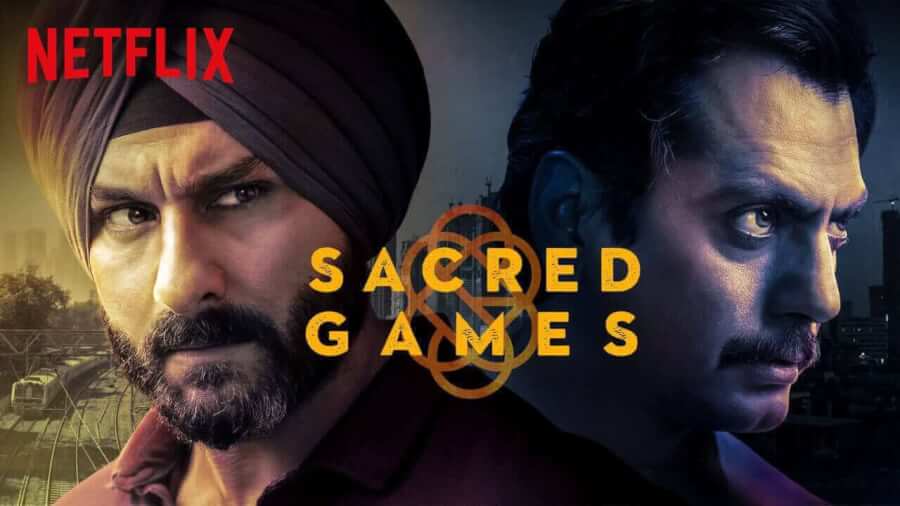 "Religion is the biggest business in the world", says Ganesh Gaitonde in Episode 7, in reference to the 1992 demolition of the Babri Masjid mosque. Soon after, he kills about 80 Muslims to avenge the death of his wife Subhadra, who was shot down by lackeys of the most respected gangster in Mumbai, Suleiman Isa. Gaitonde is not just some local gangster. The character became a murderer at a young age, after killing his own mother for having an extra-marital affair. He then ran to Mumbai and took up a job as a waiter at a Hindu Brahmin restaurant. Whilst there he hid meat in the food in order to instigate fights between the customers and the manager. Gaitonde began to smuggle drugs, striving to become the most powerful man in Mumbai. In order to realize this dream, Gaitonde stole Kuckoo, a girl considered to be the lucky charm of power, from his sworn enemy Isa. In the '80s, Gaitonde discovered that "Guns, drugs, real estate were all small time business. The real business is politics. And even before India became an independent country, people have been using religion to sway political decisions."

Fast forward to the present day, a greater threat looms over the city of Mumbai. Sartaj Singh — an ordinary constable of the Mumbai Police — is sick of his job, until one day he receives a call from Gaitonde. The gangster, who had been missing and presumed dead for the last 15 years, tells Singh that he has 25 days to save the city, and that only Trivedi will be safe. There is no information on what the threat is or who Trivedi is, nor why Gaitonde contacted a low-ranking policeman about such a threat. In order to solve this mystery, Singh must dig into his and Gaitonde's past, as well as the dark secrets of the Mumbai underworld.

There are two stories that run parallel yet intertwined: Singh's attempt to save Mumbai in the present day, and Gaitonde's journey as a gangster through the '80s and '90s in Bombay. The two plots were even directed by different people (Vikramaditya Motwane and Anurag Kashyap), and converge for only a few seconds in the first episode. Nonetheless, they seem to share a vision: random instances from both plots are amalgamated in every episode, but it all makes sense at the end, much in a similar way to the hit series Narcos. All throughout there are twists and turns that keep viewers on the edge of their seats.

Just like Narcos, the series uses a local language but is still aimed at a global audience. Along with Hindi, some instances of Marathi and Punjabi can be heard, which gives the show an authentic feel and creates an instant connection with Indian audiences. The English subtitles come to the rescue of international audiences, and of Indians who do not speak the three languages. Netflix as a platform has allowed for greater freedom of artistic direction: controversial themes such as politics and religion have been explored fully, and creative freedom has allowed for depictions of violence, nudity, and the use of obscene language. If a similar story had been released as a movie, certain scenes might simply have been cut out by the censor board.

Needless to say, the freedom with which Indian politics has been depicted in the show has landed it in legal trouble. In the fourth episode, Gaitonde refers to former prime minister Rajiv Gandhi as 'fattu', or, loser. As a result, a Congress worker from Kolkata lodged a police complaint against Netflix and actor Nawazuddin Siddiqui, who plays the role of Gaitonde in the series. However, Rahul Gandhi (President of INC and Rajiv Gandhi's son) tweeted that freedom of speech is a fundamental right, and that a fictional web series cannot change the work his father did for the nation. The Delhi High Court also ruled in Netflix's favour, though the subtitles were changed from 'p***y' to 'wimp'.

Religion is a recurring theme in the series. Though the story and characters are fictional, real-life historical events such as the 1992 demolition of the Babri Masjid and the 1993 Bombay riots have been portrayed. The Hindu-Muslim divide in Indian politics also shapes the story considerably. As Gaitonde rightly puts it in the first episode, "It has been happening since pre-independence days. To create a rift amongst the Muslims, dump pork in a mosque. To incite riot amongst the Hindus, dump beef in a temple". The harsh truth about Indian politics has been delivered quite bluntly: the rivalry between the gangsters Gaitonde and Isa reflects the hatred between Hindus and Muslims in the India of the 1990s.

All in all, Sacred Games is a pleasant break from Bollywood and its usually stale stories. The Narcos style direction is quite refreshing, and so is the uncertainty with which the story takes turns. Bollywood actors Nawazuddin Siddiqui, Saif Ali Khan and Radhika Apte play their roles with great versatility. Every frame captures India in its true form, which is what leaves a lasting impact on the audience. The series is a mixture of thrill, action, drama and suspense. If you haven't watched it yet, you are missing out on some real good stuff. And if you have watched it, let's hope the next season comes out soon!